We are here to help our clients in any way we can. Here are some frequent questions and answers about our products and service. If you do not find an answer here, please contact us and we would be happy to help.
Product & Service General Information
Can I change to a different service plan?
As your needs change, we have a variety of service options available. For more information, compare service plans
here
.
There is an orange/yellow light flashing on my communicator unit. What does this mean?
When the RESET/MESSAGE button is flashing orange, press to hear a status message regarding your Lifeline equipment.
Do I need to call Lifeline if I am changing telephone service providers?
Yes. If you change your phone number, it's important that you call Lifeline and let us know!
If you have recently switched to a "non-traditional" telephone service, such as Broadband/VoIP/digital, call us at (204) 956-6777 or toll-free in Manitoba at 1-888-722-5222. These new services may have potential risks when paired with Lifeline. You should always test your Lifeline Service after changing phone service providers to confirm it is working properly.

The Lifeline service has also been tested with leading fiber optic telephone service providers and we have not found any compatibility issues. Please note, some fiber optic options require a back-up battery for your telephone service to work during power outages. If your telephone service provider's fiber optic service requires one, you need to ask them for a back-up battery in order for your Lifeline equipment to work during a power outage. There may be a charge from your telephone service provider for the back-up battery.


How can I be sure the Lifeline system is working?
We encourage you to press your button once a month to ensure that Lifeline is working properly. Choose an easy date to remember, for example on the numerical date of your birthday each month. If your birthday is May 8th, then press your button on the 8th every month. Every 7 days, the Communicator automatically and silently calls Lifeline to verify that the Communicator is functional and has the ability to send a call into the Response Centre when required.
What if I move?
Lifeline makes moving easy! We can transfer your system to your new or second home. Just give us a few weeks' notice to arrange the transfer. If you have a second address where you often go, like the cabin for the summer, we can create a second profile in our system.
What is the role of a Responder?
As a Responder, you are a very important part of the Lifeline network. When the subscriber presses their Personal Help Button to signal for help, our Response Centre will determine whether your assistance may be needed and call you with instructions on what we need you to do to help your loved one or friend.
If a Responder is called to go to a subscriber's home, what should they do?
If our Response Centre calls you:
Go to the subscriber's home quickly (using key provided). If you cannot respond immediately, let the Response Centre know.
At the subscriber's home, press the Reset Button on the home communicator. When unit stops flashing, press the Help Button. If the home communicator does not have a Reset button, push the Help Button.
The Personal Response Associate will speak to you through the speakerphone on the Lifeline unit. Give the status of the subscriber and indicate if emergency services are needed.
Remain with the subscriber until appropriate help has arrived. If subscriber is taken to the hospital, please lock their door. For those using the GoSafe Service, the Primary Mobile Responder may be asked to respond to an alarm if it has been placed outside the home.
• If our Response Centre can identify the location and emergency services are not needed, we will advise where the subscriber can be found.
• If we cannot determine the location , we may inquire about the subscriber's possible whereabouts.
Important: Call (204) 956-6777 or toll-free 1-888-722-5222 if a Responder's information changes. This may include changes to home, cell, or work numbers.
What is your cancellation policy?
You can cancel your service at any time by calling our office. Your equipment must then be returned to our office if you live in Winnipeg at 1-756 Pembina Highway R3M 2M7 or to your local program before the end of the month to avoid any further charges. Once the service is canceled, your automatic payments will stop after the cancellation month.
Can I put the service on hold if I'm going away or into hospital?
We do offer a temporary cancellation for our clients. If you will be away for an extended period of time, you are entitled to a 60% discount off your regular monthly fee, which will take effect the next billing cycle. This rate is valid for up to 3 months. Please call our office to let us know when you will be away.

If you have a second address where you often go, like the cabin for the summer, we can create a second profile in our system, and you may be able to bring your Lifeline service with you. Contact our office at (204) 956-6777 or toll-free in Manitoba at 1-888-722-5222 for more details.
Can anyone other than the subscriber sign the Lifeline service agreement?
By the law, the signee must be either the subscriber or a designated Power of Attorney (POA). In order for the POA to sign the Lifeline subscriber agreement, they must provide evidence of authority and supply a copy of the POA to Victoria Lifeline. For more information, please call our office at (204) 956-6777 or toll-free in Manitoba at 1-888-722-5222.
What if there is a power outage? Will my communicator unit still work?
Your home communicator has a backup battery. If you lose power, the backup battery begins to work automatically. The backup battery can last up to 30 hours.
If the communicator battery needs to be replaced, a silent signal will be sent to Lifeline and one of our representatives will contact you to arrange for replacement.
Can there be more than one subscriber in the home?
Yes! A second person who lives in the home can also have a button at a reduced cost. Contact our office for more information.
On which day will my Lifeline payment be deducted?
Victoria Lifeline will auto-withdraw your payment on the 1st of the month. The actual date that it will appear on your credit card or bank statement will depend on when your institution processes it.
Can my billing date be changed?
Unfortunately, we are unable to change the billing date.
My credit card has expired. How do I update my card?
Please call our office to update your card or visit our
self-service portal
. If you are new to the portal, you will need to set up your account.
How do I sign up for an automatic pre-authorized payment method (PAP)?
Please fill out the
Pre-Authorized-Payment-Form
and mail it back to us. Please note that it may take up to one billing cycle to process your request. Once the Pre-Authorized Payment form has been set up, you will stop receiving invoices.
How do I cancel my service?
Please contact our office to cancel your service. Once the service is canceled, your automatic payments will stop after the cancellation month. The equipment must be returned to our office in Winnipeg or your local program by the end of the cancellation month to avoid any further charges.
Can I get a receipt?
Medical Alert Button Information
What length should I wear my pendant-style button at?
Your button should be worn at chest height. Please do not tuck the button into a bra or pocket.
Can I switch to a wrist button?
If you have the HomeSafe standard pendant, you may switch to a wrist button. However, HomeSafe with AutoAlert fall detection is only available as a pendant.
How do I adjust the neck cord on my button?
The neck cord can be shortened or lengthened using the following process:
To shorten: With the flat tab between your first finger and thumb of each hand, slide both tabs apart in line with your shoulders.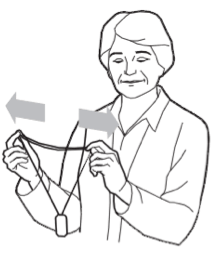 To lengthen: Pull one strand off the neck cord while sliding the tab to the back. Repeat on the other side.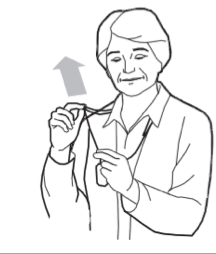 What is the break-away feature?
Lifeline neck cords contain a special fuse designed to breakaway under certain conditions to reduce the remote risk of strangulation. If the neck cord breaks apart, contact Lifeline or your representative for a free replacement. Please note that you should never tie a knot in the neck cord as it could prevent the break-away feature from working properly and creates a risk of strangulation.
Will I need to replace the battery in my help button?
No. It has a non-rechargeable battery that can only be replaced at our factory. Your Button will automatically send a silent maintenance signal to Lifeline when the battery needs to be replaced. A Representative will contact you directly to make arrangements for a replacement. Servicing and maintenance of your equipment is free for as long as you have Lifeline.
Can I wear my Lifeline button in the shower?
All of the Lifeline Personal Alert Buttons are 100% waterproof, not just water resistant and can be worn in the bath or shower. Our buttons have an IPX7 waterproof rating. This means they can be submerged up to a depth of 1 metre (40 inches) in water for up to 30 minutes.
Can I wear my personal help button to bed?
Yes, we ask that you wear your Personal Help Button at all times, so you have access to help if you need it.
Can I travel across Canada with On the Go?
Yes. If you are away more than one night, we recommend bringing your On the Go button with the charger. If you know in advance you will be travelling, let us know so we can set up a temporary profile and review what you need to do. Please notify us when you have reached your destination and always send a test call through.
Can I bring my On the Go button with me if I travel outside of Canada?
No. We cannot monitor On the Go subscribers outside Canada. Please refer to your Service Agreement for more information.
How long will the charge last on my On the Go mobile medical alert button?
The battery can last up to 5 days, based on the activity level. In general, we recommend that you charge your On the Go Mobile button daily if possible. Refer to the Instructions for Use for more information.
What if I take my On the Go button on a plane?
You will need to put your On the Go Mobile button in Sleep mode. This is outlined in your Instructions for Use.
Is there a wrist version of On the Go?
No, not at this time.
i Lifeline may not always be able to determine the subscriber's location.