On the Go
with Mobile Service
An advanced GPS locator and medical alert button so that you can quickly get the help you need in your home or on the go.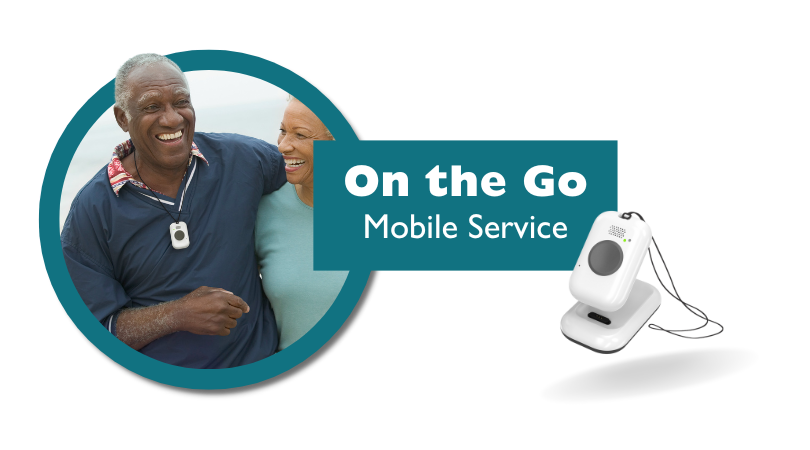 Living a life of independence
shouldn't be restricted to the home
Manitobans are active, on-the-go people and we enjoy the great outdoors year-round!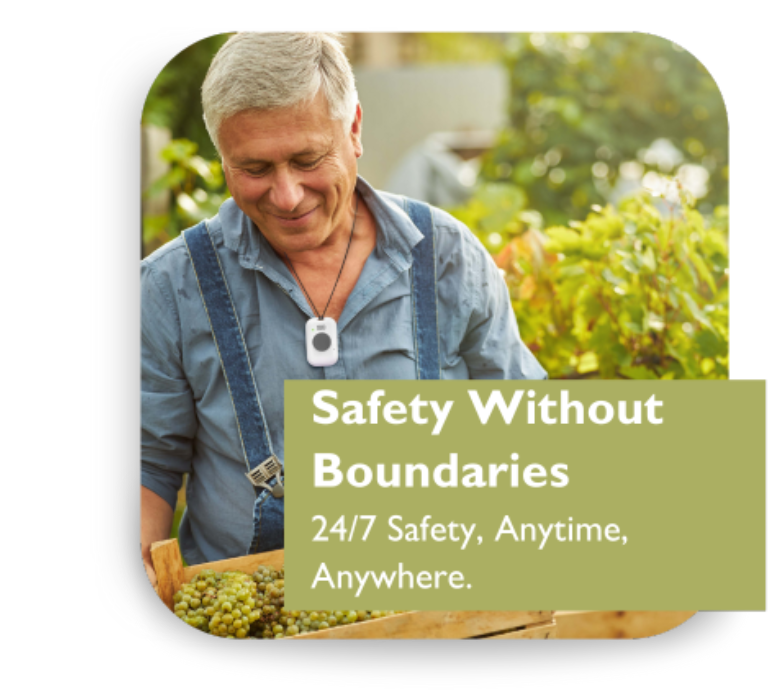 Our On the Go Mobile Service can support your active lifestyle by giving you the freedom to safely do what you love, where and when you love.

Stay protected anywhere in Canada with our advanced GPS locator and automatic fall detection, ensuring quick access to help even if you are unable to press the button yourself. Our all-in-one On the Go system allows for Two-Way Voice Communication, calling for help during a fall, and easy access to our response center associates 24/7.

Continue living life to the fullest.
On the Go is recommended for people who:
Frequently socialize outside of the home

Are interested in a mobile solution that can support an active lifestyle

May be concerned about an accidental fall or their safety while outside the home

Go out over 3 times a week alone (i.e. volunteering, visiting friends, running errands, exercising)
What's Included
In the On the Go Mobile Service, you'll receive:

Personal Mobile Alert Button & Charging Station
Wear the On the Go Button around your neck as an adjustable pendant both inside and outside the home for access to help when you need it! The On the Go Button is designed to automatically place a call for help if a fall is detected and you are unable to push your Help Button.

*Automatic fall detection does not detect 100% of falls. If able you should always press your button if you need help.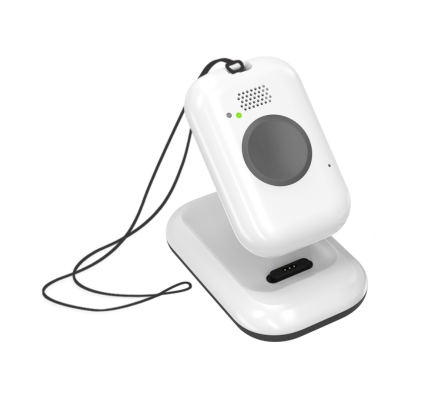 Water-resistant
You can wear it in the shower or bath, where falls often occur.
Rechargeable Battery
The battery can last up to five days on a single charge. However, we still recommend charging on a daily basis. A simple to set up charging station is included.
Airplane Mode
The Button can be put in airplane mode when you travel by plane.
All-in-one System
This single-piece system provides fast access to help whenever and wherever you need it.
Superior Automatic Fall Detection
Fall detection technology can automatically call for help if it detects a fall—even if you can't push the button.
2

Location Technologies
On the Go features locating technologies including Advanced GPS so no matter where you are, we can get you the help you want.5

Two-way Voice Communication
Speak directly with a Lifeline Response Associate through you On the Go help button to have fast access to help on the go.5

Uninterrupted Support
Since you can wear your Lifeline Personal Help Button at all times, unlike a cell phone, it should always be easily within reach.

You Are in Charge
Choose whether our Response Centre dispatches a family member, close friend or emergency services when help is needed.

24/7 Response Centres
Our Canadian-based Response Centres are available 24/7, and staffed with professionally trained and caring Associates.

1. Summon help
Press your Mobile Help Button at any time. If you fall and can't push your button – the fall detection feature can automatically call for help if it detects a fall— at home or on the go.2

2. Hear a reassuring voice
A caring Lifeline response associate will quickly access your personal profile and assess the situation.

3. Get located
Lifeline quickly pinpoints your location through your mobile pendant. On the Go uses up to 4 technologies to determine where you are.5

4. Know help is on the way
Our response associate contacts a neighbour, loved one, or emergency services – based on your preferences – and will follow up to make sure help has arrived.
Frequently Asked Questions
Frequently Asked Questions (On the Go)

Ready to
take the next step?
If you believe Victoria Lifeline is the right solution to keep you safe and independent. We can set up a FREE one-on-one consultation and figure out which service is right for you.

Fill out our contact form and we'll be in touch with you soon.
1Certain limitations subject to third-party cellular provider availability and coverage. Signal range may vary. 2Fall detection does not detect 100% of falls. If able, you should always press the button that you wear. 3 Lifeline wireless communicators connect to the Lifeline Response Centre using the third-party cellular provider. No additional wireless equipment is needed. A customer phone number is required to enroll in the service. 4 For use in Canada only. Please call our Response Centre in advance of your vacation for instructions when travelling with On the Go. 5 Lifeline may not always be able to determine your location. 6 Undetectable falls can include a gradual slide from a seated position, such as from a wheelchair, which may not register as a fall.