Through our partnership with Philips Lifeline, we offer a range of Lifeline Access products, which provide vital connection and peace of mind to people who are unable to press the traditional help button. These electronic access switches allow individuals with limited physical abilities to call Lifeline for help. They have been specially designed for body motion activation for a range of individual needs.
The switches can be used by people with neuromuscular disabilities or disorders such as Parkinson's, MS, Cerebral Palsy and ALS. They can also be used to answer an incoming call by activating the speakerphone in the Lifeline two-way communicator unit.
For more information on the Personal Help Access Switches or to book an informational in-service, please contact our Education Facilitator at (204) 956-6763

This round switch can be pinned to a pillow and activated by a controlled head movement.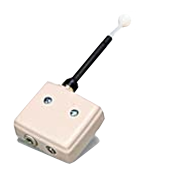 This switch can be activated by gross body or head movements coming from any direction.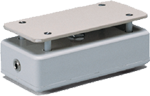 This switch is activated by gross hand, arm or body movements, or by mouth or head stick.

This switch requires sipping or puffing on a tube. Minimal pressure changes are necessary. Breath control vs. respiratory control required.