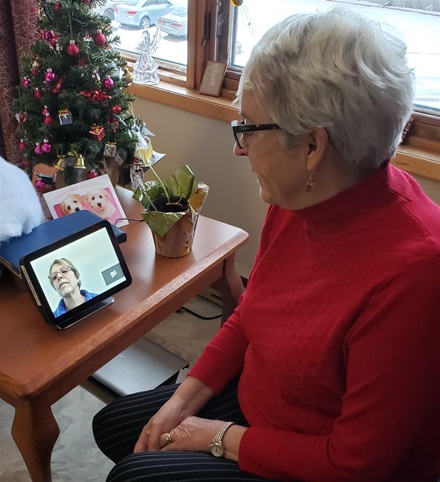 As the pandemic continues to disrupt the rhythm of our daily lives, no one has been more impacted than older adults. According to Global Health Research and Policy, 89 countries around the world have experienced lockdowns due to COVID-19 as people stay home to protect themselves and others. Because older adults are in a higher risk category, physical distancing is even more important for the 65+ age demographic. Subsequently, many older adults are experiencing loneliness and isolation at unprecedented rates. While it has been a difficult year to say the least, there are some 'good news' stories about people who have stepped up to make sure older adults stay safe and connected.
In a recent survey, the number of older adults who reported feeling lonely has doubled since the pandemic hit. This is not surprising, but it is very troubling. Global Health Research affirmed that social isolation and loneliness are, "major risk factors linked to poor physical and mental health." Before, COVID 19, many older adults regularly engaged in meaningful social activities outside the home. They also visited with family and friends and led full, vibrant lives. With COVID-19 however, staying home and avoiding public places are critical in reducing their risk of transmission. However, many older adults are more cut off from the outside world than ever before and it has been devastating.
Human beings are social creatures - it's the relationships we have with each other that give life meaning and purpose. As John Donne famously wrote in 1624, "No man is an island, entire of itself." But in the last year we've all had to rethink how we connect with one another and find new ways to do so. Technology can play a key role in helping maintain those connections, but not everyone has access to technology or knows how to use it.
Yann Boissonneault, Executive Director of Villa Youville in Sainte-Anne, Manitoba, understands the challenges of the pandemic all too well. Their facility offers both independent and supportive living along with long-term care and they have about 200 residents. Yann discussed the difficulties they have faced, "the pandemic has dramatically worsened the ever existing challenge of isolation and loneliness for our seniors." Technology that allows residents to place video calls to their family and friends can be a huge help, however, "Most of our residents cannot afford it nor do they understand the technology well."
So, on behalf of Villa Youville, Yann applied for a Victoria Lifeline Health Promotion Grant last year and received funding to purchase some Amazon Echo Show devices, which are voice activated so residents can easily make and receive video calls. The devices also allow family members to 'drop in' without their loved ones having to answer the call. The Victoria Lifeline Grant Program is dedicated to enhancing the well-being of rural Manitobans by providing funding for projects that support healthy living among older adults. Grant funds are awarded to senior serving organizations to purchase equipment or to support activities and programs that promote mental and physical health.
The residents have been using the devices for the last several months and Yann reports they have been, "life savers during the pandemic. The Amazon Echo Show and its ability to 'drop in' has been well received by families. It's a great way to stay in touch or check-in without Mom or Dad having to be technologically inclined."

Paulette Pylatiuk , a resident of the Villa, said she talks to 6 different people throughout the week using the video calling device and said the experience has been great. "It's really nice because you get to not only hear their voices but you see them while you're talking to them and it feels more real. Being able to see them makes all the difference." Yann said along with being able to communicate with their loved ones, the residents enjoy talking to the device's virtual assistant Alexa! "She'll tell you a joke, put on a movie or even play some music. All this in the language of their choice." Villa Youville is a Francophone community and as Yann explained, "Our Alexa's bilingual!" And while technology cannot replace those face to face connections, it has helped ease some feelings of isolation.
Sandra Duma, the Executive Director of Victoria Lifeline, said the Health Promotion Grant Program is an important part of their organizational social impacts as they look for ways to give back to the community. Sandra said Victoria Lifeline staff and volunteers are happy to have played a role in combating isolation for seniors who have been impacted by the pandemic. "Working with older adults, we know how hard this has been for both them and their families. To hear that the video calls have helped residents stay in touch with their loved ones puts a smile on all our faces."
Visit our Health Promotion Grant page to learn more about the program.